datacenterdynamics.com
By:
Baker Development Corporation considering 800,000 sq ft data center on superfund site in Arizona
US property development firm Baker Development Corporation (BDC) has bought a former semiconductor factory and is considering developing a data center on the site.
Assisted by CBRE, BDC bought a 28.4-acre parcel at 1110 N. 52nd Street in Phoenix, Arizona for $10.25 million. The land was sold by industrial real estate firm Reich Brothers LLC.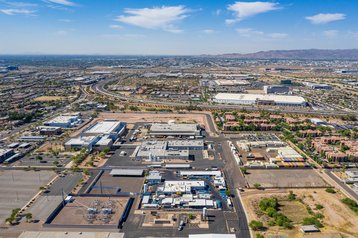 The site of a former Motorola semiconductor manufacturing facility, BDC plans to build 800,000 square feet (74,300 sq m) of data center space or a 400,000 square-foot (37,100 sq m) Class A industrial project, to be completed in 2022.
"Being located adjacent to SRP's Pico substation makes this project extremely attractive to data center users," said CBRE's John Werstler. "In addition, the desirable northeast Phoenix demographics, high demand for Class A inventory, immediate access to the full interchange at Loop 202 & 52nd Street and high-brand visibility to the expressway makes this location extraordinary."
Built in 1978, the site currently has a two-story building and houses around 35,000 sq ft (3,250 sq m) of office space and 70,000 sq ft (6,500 sq m) of data floor/manufacturing space. The site is located within an ON Semiconductor campus.
The Motorola 52nd Street site is also a superfund site with contaminated groundwater including trichloroethene (TCE), 1,1,1-trichloroethane (1,1,1-TCA) and tetrachloroethene (PCE). According to the US Environmental Protection Agency cleanup, operation & maintenance, and monitoring efforts are ongoing.